Join our global team of information technology professionals, dedicated to advancing library technology.
At OCLC, we exist because what is known must be shared. On the surface this seems simple. But dig deeper. We hold petabytes of data. Diverse data in different languages, different scripts, and different formats. We bring it together, make it talk, make it accessible. We challenge your mind while keeping your heart. If that sounds cool, you might be one of us.
Ranked #1 overall for midsize organizations
A global culture of innovation and commitment
#1 diversity strategies programs
#10 hybrid work experience
"I have the opportunity to add value. I make a difference in a way that's unique to OCLC."
Simi Ritch
Delivery Lead
"Breakthroughs happen because someone has a totally different perspective. They haven't bought into the way it is."
Matt Williams
Lead Software Engineer
"I've never worked for a place where I've picked up my phone to email myself because I woke up with an idea. 'Don't forget, this is what you thought about at 2:00 am'."
Binaebi Calkins
UX Design Manager
"You've never heard of us? That's okay. You'll get to engineer with people around the globe. Are you up for it?"
Gerrit Kitts
Software Architect Manager
Never heard of OCLC? We're worth knowing.
OCLC makes the technology that powers the world's libraries, and if that seems low-tech, you haven't used a library lately. Our teams work with complex, global datasets, machine learning, hybrid cloud solutions, and other technologies that connect people and organizations to the information they need.
Our reach is global. Our roots are deep.
There's no template for an OCLC employee. Diversity of thought unlocks innovation, and your ideas matter here, whether you have two years of experience or 20. You'll learn, create, and problem-solve with librarians, technologists, researchers, marketing pros, and support staff from around the world.
OCLC values the world we all want to see.
We believe that what is known must be shared. That's not just a tagline—it's a guiding principle. Our products make it easier and faster for people to access the world's knowledge. Knowledge that fuels scientific breakthroughs, bridges cultural divides, and contributes to a more equitable society. Equity, diversity, and inclusion have long been embedded in our work, but we're raising our own bar with dedicated projects and initiatives that contribute to racial equity within our organization and in the communities our customers serve.
You have a life, and we like that about you.
The tech industry moves fast and we need to, too. But we won't ask you to leave your life behind. Your whole self is not only welcome—it's an asset, because you never know where your best ideas and inspiration will come from. You bring the passion and we'll bring you a workplace you're proud to be a part of.
Caring About the Community
Passionate about your community? We contribute generously to organizations that serve those in need.
Funding Your Future
Our competitive salaries and generous retirement plans can help build a secure future.
Empowering Wellness
Your well-being is important to us. We provide a best-in-class employee assistance program, health awareness education, and more.
Lifelong Learning
You will be encouraged to constantly sharpen your skills through ongoing training and professional associations. Tuition reimbursement is available.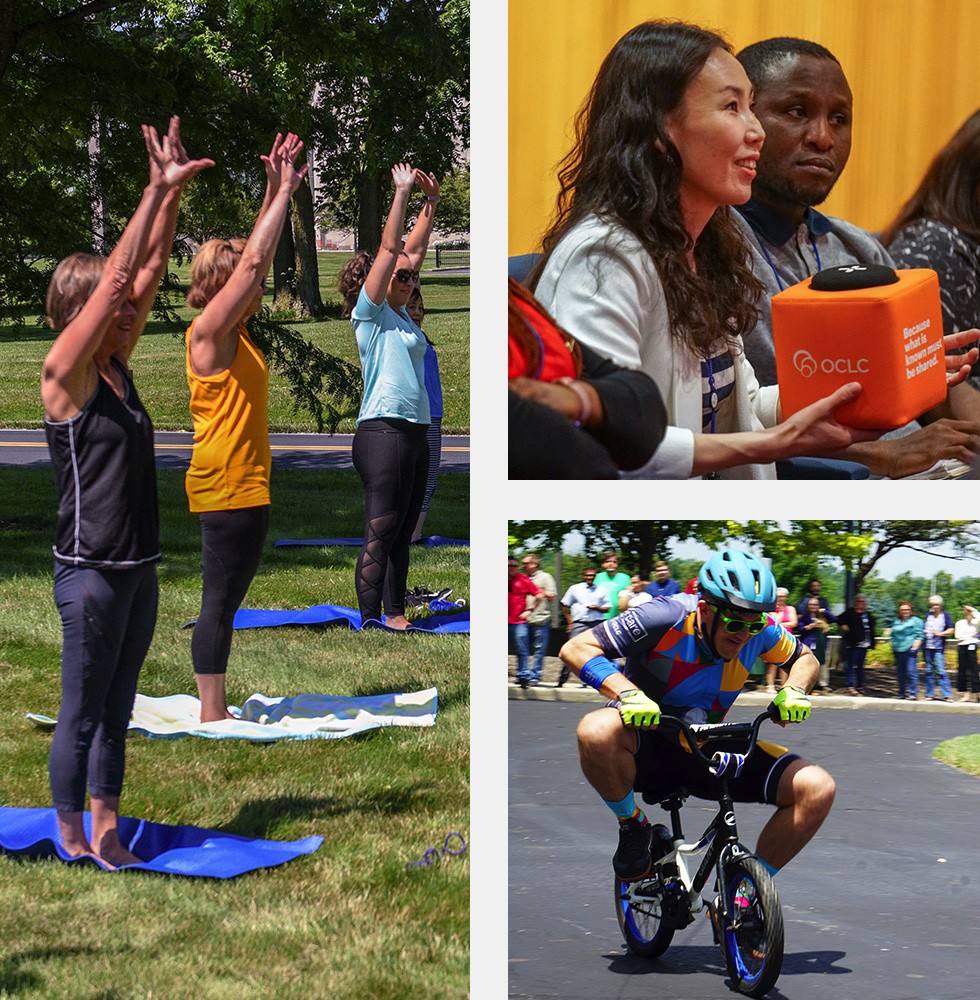 Competitive salary, exceptional benefits, medical coverage, parental leave, ongoing training, retirement plans, paid holidays and vacation time, life and disability insurance. OCLC cares about its employees and their families. We will provide you with a rewarding career and a job with an outstanding benefit package. OCLC benefits packages vary from country to country.
Transparency in Coverage: Subject to the Transparency in Coverage rule, UnitedHealthcare creates and publishes Machine-Readable Files on behalf of OCLC, Inc., which can be found via this URL provided: https://transparency-in-coverage.uhc.com/
Why join OCLC?
New ideas
We give you the flexibility to play with new tools, run with your ideas, and grow your skills in ways that interest you.
Open dialogue
Our mindset is inclusive because that's simply how we do business.
Hard work
Our success depends on our ability to deliver new, high-quality features and stable, scalable solutions for libraries.
Purpose
We connect people to the resources they need to learn and grow, and ultimately, to transform the world.
---
Be part of a recognized workplace leader
Great people. Inspiring mission. Thriving culture. Just a few reasons we continue to be rated a best place to work!
---
OCLC is an Equal Opportunity Employer.
All qualified applicants will receive consideration for employment without regard to race, color, religion, sex, sexual orientation, gender identity, national origin, disability, or veteran status.