With WorldCat.org you can:
---
Provide easy access to your catalog, services and content
The most prominent link within the listing—your library's name—leads the user directly to the item's record in your online catalog. Depending on your catalog's capabilities, a user may be able to view the item's availability and, after authenticating as a library member, perform any number of circulation activities, including the placement of a hold, remote checkout or direct viewing of electronic content.
---
Refine searches with facets
A left-hand "faceted browse" panel allows users to refine their results by categories. These "facets" include author, content (subject), format, language, year of publication, and a new Open Access filter that limits searches to a subset of source databases known for providing open content. This dynamic navigation mines WorldCat's structured metadata and helps users narrow a large result set by presenting easy-to-understand refinement options.
---
Provide information to guide user selection
The top of a Worldcat.org detailed record shows basic evaluative information about the discovered item, such as author(s), format, language, publisher, a quick summary, ratings and cover art. Previews are included, when available. Items with multiple editions or formats available in WorldCat® (such as large-print, audiobook, or translations) include a prompt to see a FRBR-ized view of additional editions and formats.
---
Search the most popular items in the collective collection
Web users who arrive at WorldCat.org can search the combined catalogs of more than 10,000 libraries worldwide, making WorldCat.org the single biggest place to find library materials on the Web. In addition to the multiple formats contributed through the WorldCat Digital Collection Gateway, WorldCat.org also includes more than 200 million article citations from many popular databases, including the following:
OAIster
JSTOR Archive
Elsevier metadata
Medline
ERIC
British Library Inside Serials
ArticleFirst
View a list of content collections searched through WorldCat.org on the "Article-level view" tab of the WorldCat Discovery central index list.
Users recognized as being on your library network through IP authentication also see linked fulfillment options you may offer for a particular article, such as full text, OpenURL resolver or article delivery service.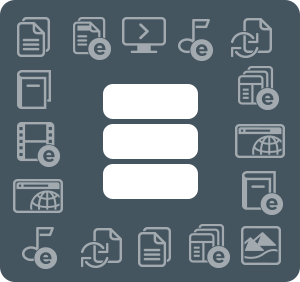 ---
Quickly generate citations
A WorldCat record includes the ability to generate bibliographic citations for the displayed work. A "Cite/Export" link in the horizontal menu bar launches a pop-up window with citations for the five most common citation styles (APA, Chicago, Harvard, MLA and Turabian) that users can copy and paste into a document or e-mail. A citation can also be exported, either in a file formatted for EndNote bibliographic software or directly to the RefWorks online bibliography service.
---
Integrate with key Web search sites
In partnership with OCLC, Google, Goodreads and many other sites index or link to WorldCat records for millions of popular items as well as unique items held by individual institutions. Among their search results for regular Web content, a Web user finds links to WorldCat.org information about library materials based on keywords in their originating search.
Web Visibility Requirements
Contribute your library's holdings to WorldCat via WorldCat-enabled OCLC services (see Ordering for a list of applicable services).
Subscribe to WorldCat Discovery.
(Required for exposure of your holdings via WorldCat.org, Google, Goodreads and other partner sites.)
---
Personalize your experience and integrate with social networks
WorldCat.org offers a variety of exciting and useful social networking and personalization tools to make the search-and-discovery experience more informative and appealing.
Profiles: The Profiles feature allows users to create a unique portrait of themselves for other WorldCat members to see. On the "My Profile" page, users can add a photograph, adjust their privacy settings, provide contact information (name, address, e-mail, occupation), write a personal description, provide favorite websites and write about "What I like."
List Creation and Maintenance: Users who are signed into their WorldCat account can save personalized lists of library items right from search results. The user checks a box next to the item and saves it either to a new list, one of several default lists or a previously created list.
Lists I Am Watching: Users can keep a collection of their favorite lists created by other users and be notified when additional information is added to it. This feature is perfect for specialty groups who want to keep members informed of new information.
Reviews: Writing reviews allows users to share their opinions of items found on WorldCat. They can also read the reviews and recommendations of other WorldCat.org members.
Ratings: A one-to-five-star rating system gives users the chance to tell others what they think of a work.
Tags:Tagging lets users categorize items with a keyword or term associated with that item. For example, a biography about baseball legend Babe Ruth could be tagged with "baseball," "biography," "Yankees," "Bambino," "celebrity" or any other descriptor the user finds applicable. When another WorldCat user performs a search using one of these tags, the biography of Babe Ruth will be one of the items to appear in their search results.
Saved Searches: Once a user constructs a search, he or she can save the search to run it again at a later time. Especially useful for genealogists, graduate students/faculty or subject-specific researchers, the Saved Searches feature can save hours of time by eliminating the need to reconstruct particularly complicated search parameters.
Favorite Libraries: Users can create lists of their favorite libraries with links to the library's own website. Then, as search results are returned, "favorite" library results are always prioritized at the top with a red heart next to them.
There are additional social networking tools for WorldCat.org on external websites, such as Facebook and Twitter, as well as mobile view capability.
WorldCat.org makes your library's resources visible to information seekers on a freely available website and from search engines and websites where most people begin their research. This broad visibility promotes libraries as a vital information source and allows anyone to quickly and easily access resources in libraries near or far.
Upcoming events
Watch this space for more upcoming webinars
On-demand webinars