Fun facts about the 2005 OCLC Top 1000
How many works by Shakespeare made the list?
Thirty-seven.
How many works by Stephen King made the Top 1000 list?
Zero, to our surprise. Gunslinger ranked 1080, though.
Which author has the most works on the OCLC Top 1000 list?
William Shakespeare (with 37 works). He is followed by Charles Dickens (16 works) and John Grisham (13 works).
How many different authors are on the OCLC Top 1000 list?
576 authors made the list, not counting the anonymous ones.
How many of the OCLC Top 1000 works are anonymous?
59 works are anonymous or do not have a single author. (In library parlance, there are 59 "title main entry" works.)
What work on the Top 1000 list has the richest publication history, i.e., the most manifestations, as represented by OCLC libraries' holdings?
The Bible, followed by the Haggadah. Divine Comedy was 3rd and the Koran 4th.
If all the Harry Potter books were bundled together, how would they have stacked up?
We didn't bundle them together, but if we had, these books would have ranked 5th on the Top 1000 list (and 1st on the Top Fiction list, 2nd on the Top Children's list). Considered together, 44,976 Harry Potter items are held by libraries and they are represented by 496 different bibliographic records.
Which author on the list is most held by OCLC libraries?
William Shakespeare, followed by the United States government, Charles Dickens, Mark Twain, and Giuseppi Verdi.
How far down the OCLC Top 1000 list do you have to go to get to a live author?
Jim Davis' Garfield is number 15 on the list. (Four of the 5 top works by living authors are cartoons!)
And in case you're wondering, Harper Lee's To Kill A Mockingbird is the highest-ranking work by a living female author. It ranked 146.
What is the highest-ranking work written by a woman?
Wuthering Heights, by Emily Brontë, ranks 28 on the list. Jane Eyre, by Charlotte Brontë, is ranked 30, and Jane Austen's Pride and Prejudice ranks 32.
About the topic of sibling rivalry...
Emily's Wuthering Heights (#29) edged out Charlotte's Jane Eyre (#30) on library holdings (26,798 vs. 26,389), but Jane Eyre is ahead of Emily on records (922 vs. 854)—about as close to a tie as one could imagine. Charlote wins overall, though, with Villette at #982 (224 records and 5332 holdings).
Who is the most written-about person in WorldCat?
Jesus Christ.
What's the top mystery novel held by libraries?
The Adventures of Sherlock Holmes. It ranks 192.
You've acknowledged that the Top 1000 list has a United States slant. How many U.S. presidents authored works on the list?
John F. Kennedy (for Profiles in Courage), George Washington (for his Farewell Address), and Ulysses S. Grant ( Personal Memoirs).
James Madison, who along with Alexander Hamilton and John Jay co-authored The Federalist Papers under the pen name Publius, also made the list, though anonymously. (Madison and Hamilton also drafted Washington's Farewell Address.)
Abraham Lincoln is not on the list.
How does the U.S. constitution rank?
237.
Kissin' don't last, cookin' do...
The Joy of Cooking ranked 269 on the OCLC Top 1000 list. Joy of Sex did not make the Top 1000 list, or come anywhere close.
Fighting like cats and dogs...
Garfield is number 15 on the list. Snoopy is 69.
How about animals generally?
Garfield is the top-ranking animal overall. Moby Dick, at 34, was the second-highest ranking animal. Neither Lassie nor Bambi made the OCLC Top 1000 list. ( The Yearling, though, ranked 281.)
What is the top-ranking bird?
Does Mother Goose count? She was third on our list.
What about plants?
Leaves of Grass ranked 49.
What's the top fruit? The top vegetable? The top mineral?
It's your turn to look.
Who is the top monster?
Dr. Frankenstein's monster. Ranking 43, he beat both Count Dracula (75) and Edward Hyde ( Dr. Jekyll and Mr. Hyde ranked 141). This year the vampire, Lestat, ranked 927 on the OCLC Top 1000 list, but Shrek didn't make the list.
It was a dark and stormy night...
The work Paul Clifford by Edward George Bulwer-Lytton did not make the OCLC Top 1000 list.
What cartoons made it to OCLC's Top 1000 list?
Garfield, by Jim Davis (ranked 15)
Peanuts, by Charles Schulz (ranked 69)
Calvin and Hobbes, by Bill Watterson (ranked 77)
Doonesbury, by Garry Trudeau (ranked 88)
Far Side, by Gary Larson (ranked 115)
Dilbert, by Scott Adams (ranked 399)
Fox Trot, by Bill Amend (ranked 773)
What was the 1001st item?
Ecclesiastical History, by Eusebius.
How old are the works on the Top 1000 List? When were they written?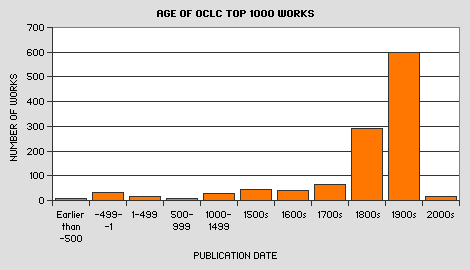 What languages were these works originally written in?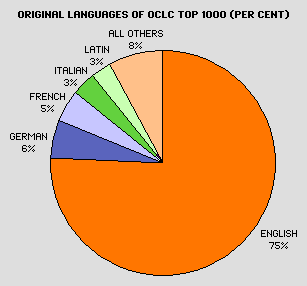 How does this list compare with other lists out there?
We compared the list with awards (Man Booker, National Book, National Book Critics Circle, Pulitzer, Caldecott, Newbery, and Coretta Scott King), as well as several commonly-cited lists (BBC's Big Read, Daniel Burt's Novel 100, NEA Teachers Top 100 list, Publishers Weekly's Bestsellers lists, and Random House Judges' Top 100 for fiction and non-fiction). The result was a list of 3353 unique titles. Of these, 354 are on the OCLC list as well as on one other list; 2133 are on at least one of the others but not ours.
Of the items on the OCLC list, 13 appear on at least 4 other lists:
Grapes of Wrath, by John Steinbeck (ranked 101 on the OCLC list)
Lolita, by Vladimir Nabokov (ranked 527)
Age of Innocence, by Edith Wharton (ranked 253)
Angela's Ashes, by Frank McCourt (ranked 416)
Brideshead Revisited, by Evelyn Waugh (ranked 653)
Catcher in the Rye, by J. D. Salinger (ranked 347)
Gone with the Wind, by Margaret Mitchell (ranked 215)
Great Gatsby, by F. Scott Fitzgerald (ranked 110)
Holes, by Louis Sachar (ranked 515)
Nineteen Eighty-Four, by George Orwell (ranked 139)
On the Road, by Jack Kerouac (ranked 386)
Shipping News, by Annie Proulx (ranked 904)
Ulysses, by James Joyce (ranked 134)
What works didn't make the list?
Many very wonderful works didn't. What matters, though, is whether your library has the books you consider to be wonderful. And if not, what also matters is whether your library has the support it needs to support your needs.