Meet the Author! Jean Godby on Library Linked Data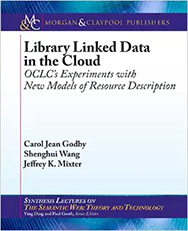 On Thursday, 12 January 2017, the ASIS&T Meet the Author Series webinar will feature Jean Godby.
As many in the library community have acknowledged, the new Web is a growing "cloud" of interconnected resources that identify the things people want to know about when they approach the Internet with an information need. Jean's book Library Linked Data in the Cloud describes OCLC's contributions to the transformation of the Internet from a web of documents to a web of data. The presentation provides an update on OCLC's linked data experiments since the book was published.
You can learn more or register at the ASIS&T site.

Carol Jean Godby, a Senior Research Scientist at OCLC, where she has been responsible for directing projects with a focus on automated content analysis that produce research prototypes, open source software, improvements to national and international standards, and enhancements to OCLC's data architecture. She has a Ph.D. in Linguistics from The Ohio State University. Since 2010, she has been a member of a research and development team at OCLC whose charter is to develop a next-generation data architecture based on the principles of Linked Data.