Support for Collaborative Online Learning and Information Services (COLIS)
This activity is now closed. The information on this page is provided for historical purposes only.
Goal
The goal of this Metadata Switch project is to produce SRW/U and OAI tools for the COLIS project.
Project description
COLIS (Collaborative Online Learning and Information Services) is a project of the Australian national government focusing on the development of collaborative online learning and information services. It is a broad demonstration/experiment in integrating e-learning components.
OCLC is a member of the COLIS Consortium, which consists of five Australian universities, systems providers, and IMS Global Learning Consortium.
A component of the COLIS architecture is a searchable repository of LOM (Learning Object Metadata) records. (See figure 1.) These records are produced by institutions as part of the production of Learning Objects, but they are rarely made searchable by those institutions.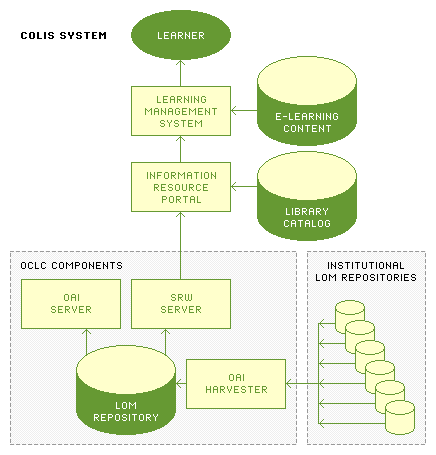 Figure 1. Colis System Architecture
The Office of Research will produce a variant on its existing OAI server that will enable those institutions to offer their LOM records to OAI harvesters. OCLC will harvest LOM records and make them available via the SRU search and retrieval protocol.
Why OCLC is conducting this research and how it helps libraries
Academic libraries often are involved in the management, if not development, of their institutions' online learning systems.

This is another area in which OCLC Research can contribute to processes that ultimately will enhance access to information and support increased library efficiency and effectiveness.

We already are active in relevant communications protocols communities, including Z39.50 and SRW/SRU.
We also have extensive experience with metadata objects as well as their schema, transfer protocols, and conversion processes.
We are participating in the global IMS community.
Research activities
OCLC researcher Ralph LeVan is harvesting metadata for learning objects, and working with COLIS to develop systems and protocols for communicating and transferring metadata between the disparate systems that can potentially supply or use learning objects and other resources in online learning systems.
host a SRU server and LOM repository.
develop Open Source software
LOM records will be added to the database as they are made available.
Other types of Learning Object metadata will be examined for suitability for inclusion in the repository.
Timing
September 2002 - Summer 2003
Relationship to other projects
Resources
Project team