Communication and signage: Resource Roundup
The COVID-19 pandemic has been a challenging time for many people, changing day-to-day life in unprecedented ways. Employers and employees have played a critical role in protecting themselves and each other while helping to prevent further spread of the disease. A crucial aspect of this work lies in how we communicate to our staff and the public. These resources provide examples of relevant communication tools, including signage templates and COVID-19 communication guides.
Note: These examples may have changed since being reviewed. Last accessed April 20, 2021.
General signage | Communications from museums | Communications from libraries |
Communicating to specific audiences
---
General signage
Social distancing signs and posters: how many kangaroos is 1.5m?" from The Guardian, published July 24, 2020: This playful collection of signage features creative measures of length.
"The sophisticated design behind a simple coronavirus sign," from Quartz, published June 3, 2020: Some thoughts on what makes an effective COVID-19-related sign.
"Tips for Signage and Wayfinding in a Post-COVID-19 World," from Gensler, published May 6, 2020: Considerations for developing effective signage packages for wayfinding applications.
Print resources from the CDC: print-only materials developed to support COVID-19 recommendations.
 
Communications from museums
"Signs of the times: how museums made social distancing signage an art form," from Museums + Heritage Advisor, published September 30, 2020: Get inspired by this collection of clever museum signage, social media, and other COVID-specific communications.
"10 ways to make your museum website COVID secure," from MuseumNext, published July 19, 2020: Tips for communicating museum policies and expected guest behaviors from a museum's website.
"Reopening Starter Kit for Museums," from American Alliance of Museums, published August 3, 2020: Among other resources, this low-cost kit includes editable signage templates.
Communications from libraries
"How to Tackle Library Signage in a Pandemic and Make Visitors Feel Comfortable with Your New Rules," from Super Library Marketing, published June 2020: Thoughts to consider when developing signage about COVID-19 policies at libraries.
Customizable COVID-19 signage templates from DEMCO: DEMCO provides free templates that serve as starting points to help make library staff and patrons aware of new rules and protocols. All templates are downloadable and customizable and are offered as 8.5" x 11" or 11" x 17" posters.
"How User-Friendly Is Your Website?" from American Libraries Magazine, published March 1, 2021: The increased importance of library websites during the COVID-19 era has highlighted common usability shortcomings—and opportunities. This article offers usability lessons for libraries in a remote world.
"Libraries Respond: Combating Xenophobia and Fake News in light of COVID-19," from the American Library Association: Includes selected resources for sharing the COVID-19 facts, and examples of how libraries are interrupting not only the spread of misinformation but also related racism and xenophobia. Accessed April 16, 2021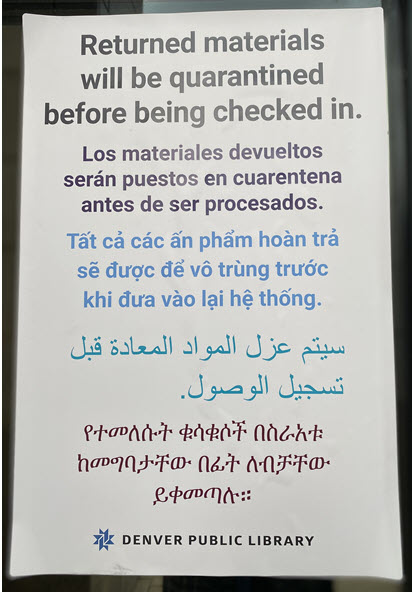 "Coronavirus & Public Libraries Resources: Communications Guide," from the South Carolina State Library: A resource that includes guidance specifically related public libraries communications. Accessed March 25, 2021
"Super Library Marketing: Practical Tips and Ideas for Library Promotion," from Super Library Marketing: A user aggregated guide to communicating new library policies. Accessed March 25, 2021
Communicating to specific audiences
"COVID-19 Vaccine Plain Language Materials" from New York State Office for People with Developmental Disabilities: These multilingual flyers and short informational video present information about the vaccine in plain language. Your state may offer similar materials. Accessed: April 16, 2021
"COVID-19 Accessible Resources," from Georgia Tech Center for Inclusive Design and Innovation: Pandemic-related material in braille, American Sign Language, and screen-reader friendly formats. Accessed: April 16, 2021
"A Self-Advocate's Guide to COVID-19," from Green Mountain Self-Advocates: Plain language information about COVID-19 by and for people with disabilities. Accessed: April 16, 2021
"Communicating with Communities of Color through COVID-19," from Public Relations Society of America – National Capital Chapter, published July 2020: General tips for writing respectfully when addressing communities of color during the pandemic. Accessed: April 16, 2021
"Understanding Coronavirus (COVID-19)," from KidsHealth: Resources to help adults talk to children about the pandemic. Accessed: April 16, 2021
Image credits: Boston Children's Museum; Jefferson College, Kim Garzia; Denver Public Library