At the same time I was experimenting with OCLC and technology to do the heavy lifting of data, I also was experiencing the tradition of shifting and moving catalog cards, in order to make room for more catalog cards. Remember, this was the pre-VHS-DVD-Netflix era, and my brother and I borrowed movies that would have otherwise been unavailable to us through interlibrary loan. Until we (librarians) started to become accustomed to ILL, I remember always being surprised to learn that someone wanted to borrow items from our library's collection, which was fairly limited at the time.
After a decade at Azusa Pacific, I took a two-year contract position as a head cataloger at California State University in San Bernardino. Their original cataloger was on a two-year sabbatical at the time. Up to that point, I had only used Dewey, so this was my first opportunity and introduction to the Library of Congress classification scheme.
When my two years came to an end, I began a job at a local public library, and I took a job at Glendora Public Library as a reference librarian. However, I eventually became head of technical services, following the footsteps of my predecessor and dear colleague, Francy Bockoven. I really enjoyed working with the staff to improve efficiencies over the course of my 17 years in public librarianship.
In early 2007, I returned to academia when Pepperdine University School of Law posted a senior cataloger position.
Pepperdine University School of Law is home to the Straus Institute for Dispute Resolution. Established in 1986 as the first dispute resolution program in the Southwest, the Straus Institute was recently ranked number one in dispute resolution for the eighth consecutive year by U.S. News & World Report.
Because of the program's success, Straus was awarded a unique collection from the American Arbitration Association in 2007. The AAA collection consists of more than 24,000 titles on subjects ranging from international arbitration to consumer disputes, and health law to the history and growth of public and private dispute resolution practices in the U.S. and abroad.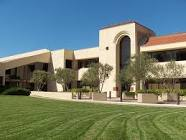 This was my first assignment in my new role at the law library. The collection was boxed up from floor to ceiling. I was placed in a corner of Technical Services, with a computer on a 6-foot folding table. My only complaint was that I was forced to view the Pacific Ocean all day long.
But that's the thing with catalogers—we are creative when it comes to thinking inside the boxes. We take massive amounts of resources and information and create order and organization, so that others can navigate it all quickly and efficiently. Today, 80 percent of the American Arbitration Association collection has been processed and is on the shelves.
My second big project also came by way of an unexpected special delivery. In 2009, I walked into work to learn that the reference librarians were being moved into new offices upstairs. What did that have to do with me? The quest to unravel the story had begun.
The original law program began as a night school, Orange University College of Law in 1964. In 1969, Pepperdine took over the program. Due to the LA riots in 1965, Pepperdine College went looking for a new location. Land in Malibu became available. The newly formed Pepperdine University School of Law needed a facility on the Malibu campus. The benefactor who helped fund the construction of this new facility was Odell Seay McConnell.
Two of the four rooms that would become the offices of the reference librarians were a catch-all containing archival materials for the Pepperdine University School of Law, as well as many of Odell McConnell's belongings. Having had no children, he left his entire estate and all of his personal belongings to the university's School of Law.
I was assigned to take his personal belongings and piece together more than nine decades worth of his experiences. I began uploading my findings into Ancestry.com and I created a genealogy for the McConnell family. I learned that Odell had come from a lineage of lawyers. His grandfather, Newton W. McConnell, had been chosen to be the Chief Justice of the Supreme Court for the territory of Montana. Odell's father, Odell W. McConnell, was a successful corporate lawyer who once appeared as legal counsel before the United States Supreme Court. The younger Odell left Montana to attend a private school in Lawrenceville, New Jersey. (The film The Happy Years was filmed on its campus.) From Lawrenceville, Odell attended Yale for his undergraduate degree and then Harvard Law. At both institutions he excelled at debate, winning first prize both his third and fourth years at Yale. The trail to these discoveries included the program for the Princeton-Harvard-Yale debate during his junior year. They misspelled his middle name, Seay, as Grey in the program, but they spelled it correctly on the trophy.
Odell served a short time in World War I during his time at Yale, and he suffered the loss of his father during his studies at Harvard Law. Upon graduation, Odell and his mother moved to Los Angeles. Here he settled down and launched his law practice. When Odell was 87, he delivered a speech at a dinner hosted by Pepperdine University, given in his honor. I found his handwritten speech and I have transcribed it in its entirety. The speech began with a story about his early days in LA. Upon arriving there, he purchased a car and drove up the coast beyond Santa Monica Boulevard only to come to the end of the road and the private property of Frederick and May Rindge, now known as Malibu—fenced off with 'No Trespassing' signs. He parked his car, hopped the fence and went for a swim. As he returned to his car, he was greeted by a security guard inviting him to leave the property at once. This same family, years later, would eventually give the land that would become the new Pepperdine University campus!
I transformed the boxes and boxes of personal objects into a narrative book, Life & Family of Odell Seay McConnell. The icing on the cake? After 35 years as a cataloger, I was able to create an original record (#739714147) in WorldCat of my own work. Out of the approximately 2,000 original bibliographic records I've cataloged during my 35-year career, roughly 1,400 of them have been created during my five years at Pepperdine.
Using technology and helping people along the way have been constant throughout my career. It will be interesting to see how new standards such as RDA and FRBR will play out. Ultimately, we are all working to make it better for individuals to more easily search and find what they want and need. People will continue to become more accustomed to finding and retrieving the actual documents. Through all aspects of our interactions, it is becoming the expectation that there will be something tangible at the end of the line with each cast for information. I see this even with my two granddaughters. They are growing up to expect that a telephone call is a visual one. Anything else is unacceptable. This is an exciting time for librarians—ripe with opportunities and challenges to meet these very high expectations.