Get a Sneak Peek at the New Developer Network site
Shelley Hostetler
/
07 March 2014
The new Developer Network Website is only 3 days away! While we're busy doing the final touches over the weekend, we wanted to give you a small taste of what's coming on Monday. We're pleased with the new design and structure, of course--but the 3 things below are ones most likely to help make it easier to work with OCLC's Web services.
New features
Previewing Web services with the API Explorer
There are a couple of new key features we think you might want to check out first thing on Monday. The first is a brand new API Explorer designed to let you test messages and responses for most of our Web services, giving you a better understanding of how they work before you even start your project – with no WSKey required. Of course if you do have a WSKey, you can use that, too. The API Explorer will allow you to explore sandbox data if you are just looking or your own data when you are in the early stage of a coding project.
API key management
If only you had the details handy, or could request the one you needed a little more easily . . . Those are a couple of the many reasons we've integrated the WSKey requests and management right into the website. Now that you can request and view your WSKeys from within the Developer Network site,  it's that much easier to get started working with our Web services.
Improved documentation
Providing Web services documentation is one of the most important things we do here at Developer Network, and we decided to take this opportunity to make some improvements. As you start browsing through the Web services on the new site, the first thing you'll notice is that the Web service top-level page is significantly different. We've tried to make it easy to take the next step from reading about a service to working with it. Whether you want to interact with the API in our API Explorer, request a WSKey, or reach out for help, it's all handily available from this main page.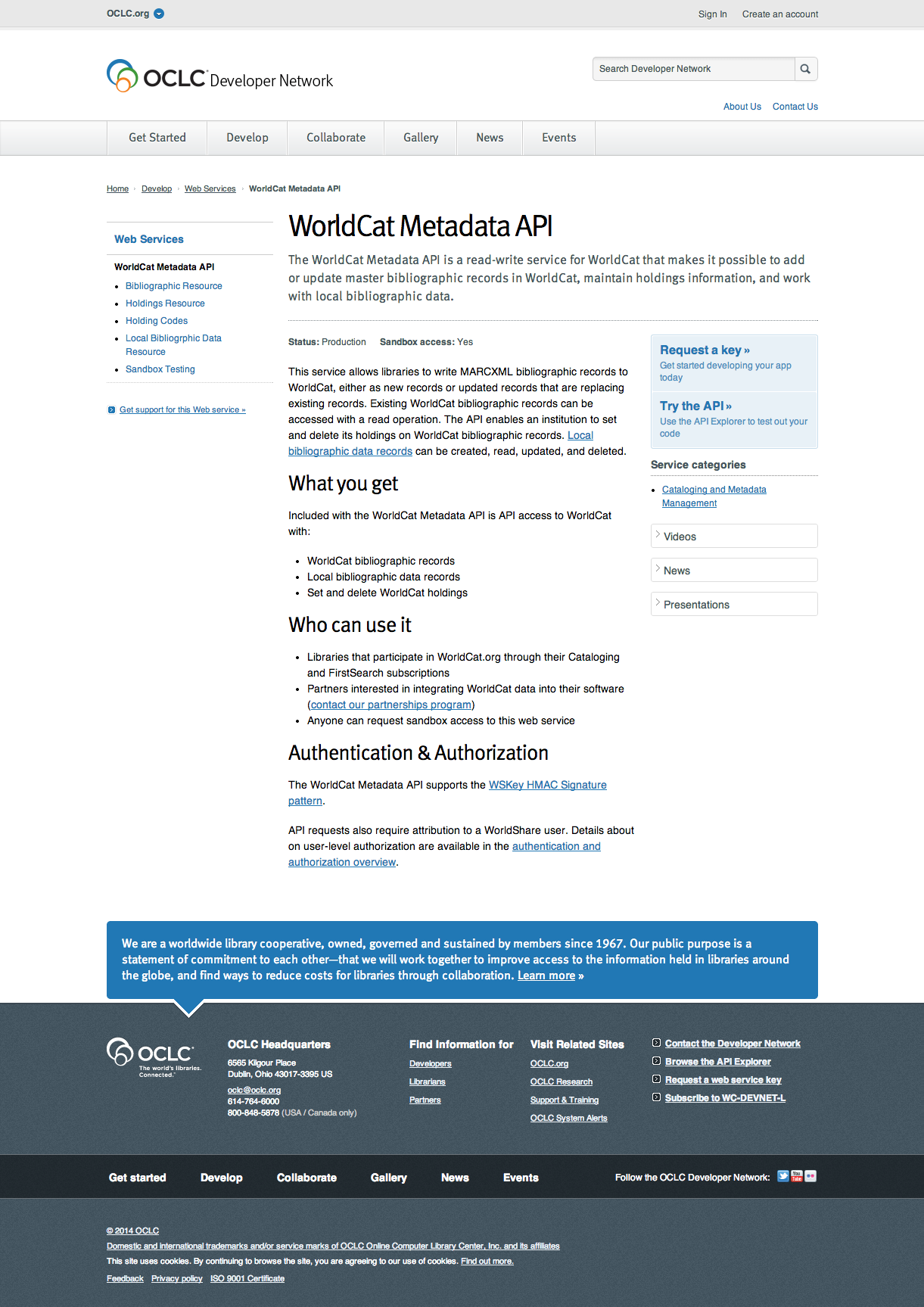 One of the things we've heard from users is that it can be difficult to understand sandbox and production eligibility for our services. So we've also included exactly what you need to know about who can use the API and any restrictions that exist right there on the landing page for the Web service.

As you look more closely at the documentation for each service, you'll notice another important change. We've gotten feedback that our current pages require some bouncing around to piece together what messages to send and what responses to expect. You'll notice that request and response messages are now collocated in a single page for each resource in the Web service.
At a high level, this has been a good opportunity to for us to review a lot of content that, while similar in many ways, was developed at different points in time and had grown somewhat inconsistent. We've been able to re-introduce some consistency in the documentation across the Web services and hope that will make the documentation somewhat easier to use. Working through the documentation at this level has also inspired us to bring more consistency to the depth of technical detail for each service.
We can't wait to get your feedback on our new features and on the improvements we've made to the documentation. Drop us a line anytime at devnet@oclc.org
There are no Profiles matching the configured list.