Organizations worldwide are using CONTENTdm digital collection management software to create thousands of outstanding digital collections and to provide easy access to their unique holdings.
This month, four collections are featured on the OCLC website. The featured collections for October are the Greetings From... Des Plaines Memory Collection, the General Photographic Archives at the Tyrrell Historical Library Digital Collections, the Friesner Herbarium Digital Collection, and Heart of the Soldier.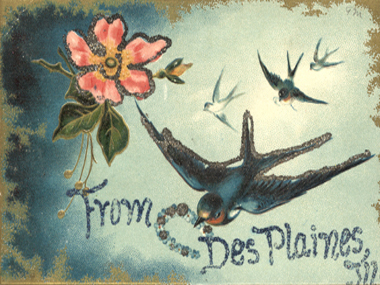 Greetings From... Des Plaines Memory Collection

Des Plaines Public Library

This large collection of modern and vintage postcards includes scenes of Des Plaines, Illinois, holiday postcards, novelty postcards, tourist attractions and more. The collection brings together a wide range of materials related to local Des Plaines history and culture. The bulk of the photographs, postcards, letters and other items have been selected from the archives of the Des Plaines History Center. 
General Photographic Archives - The Tyrrell Historical Library Digital Collections

City of Beaumont
This collection consists of 3,677 photographs that pertain to the history of the greater Beaumont area. The images can be categorized into many themes such as: street scenes, aerial views, agriculture, churches, schools, libraries, restaurants, hotels, banks, businesses, commerce and industry, city service functions, theaters and entertainment, private homes, and commercial and public buildings, as well as personal and family portraits. The collection represents a wide range of topical information that spans a time period of roughly 150 years. 
The Friesner Herbarium Digital Collection

PALNI - Butler University

This digital collection was developed by the Friesner Herbarium and Butler University Libraries, with digital images created by Indiana University Purdue University–Indianapolis University Library. The Friesner Herbarium Digital Collection currently contains more than 19,500 images of plant specimens, collected throughout Indiana, from the Butler University Friesner Herbarium. This collection includes fern, orchid and sunflower specimens along with plants in the bean, buttercup, figwort, mint, mustard, rose, lily, pink, carrot and forget-me-not families, plus non-Carex sedge members of the sedge family. At this point, more than 1,100 species are covered in this collection.
Palo Alto City Library

This is a collection of photographs and writings created by local veterans. As a recipient of a 2014 CA Reads grant from Cal Humanities on the theme of War Comes Home, the library was able to present a creative writing series and a photography series for Palo Alto veterans.